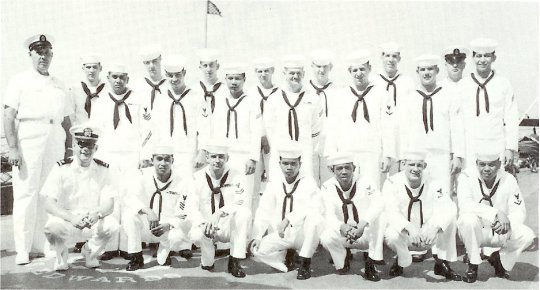 Standing (L to R): Buster, Shoeppach, Tupai, Fillingame, Flores, Bennett, Manuel, Aubert, Ritchie, Weigand, Teter, Daily, Chester, Faulhaber, Martinez.
Kneeling Mr. Dale, Castro, Slater, Partido, Bond, Turner, Rivera.
---
S Division survived the cruise in fine shape. Supply proved its versatility for the unusual when the supply office became a stereo shop, the messdeck a bingo parlor and the wardroom an asparagus patch. We broke many records this cruise too. Our laundry broke down more times than any other tin can in WestPac. Our illustrious leader, LT, "Pappy" Cone developed the worlds most real illusion and Teter won top honors for the most dollars fished from a sailor in Yokosuka. No casualties, but ole Point Loma sure looked good .


"Big Brother is watching you!"


"Well, that finishes the Plum wine."
"Money talks here, Bub!"


| | |
| --- | --- |
| | --- |
| | Do you have questions or suggestions? Please contact us at webmaster@dd950.com |
| | Meet us in the Chat Room every Saturday 7:00pm Central Time |
| | Stay tuned for information about the DD-950 2006 Reunion! |
| | This page last updated on: August 11, 2003 |