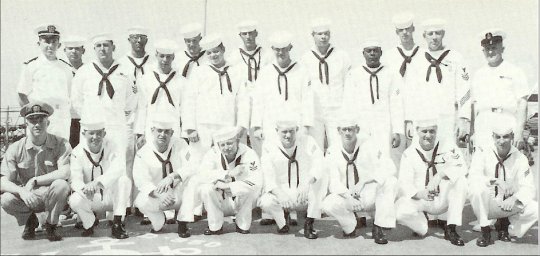 Standing (L to R): Mr. Rowe, Fansler, Marvin, McGowen, Afner, Johnson, C. E. Hampton, Maples, Wood, Chiddix, Young, Saxton, Griffith, Banek.
Kneeling Mr. Ashton, Belcher, Stevens, Wood, West, Brouwer, Riggs, Tronery.
---
Seven months of steaming and what have we got? Memories. Big John remembers football training in Yoko. Stevens remembers Hong Kong. Hampton never went ashore, but he remembers looking at the beach in every port. Too many people remember the division party in Yokosuka. The division officer remembers the day after. Memories of all night plane guard detail. Of watching other people cross the brow at liberty call. Of groping through OC divisions darken ship drills after "turn to." Of turning to after "commence holiday routine." Of scrubbing the sides at midnight. It might have made us mad, but we had Karns the morale-booster to keep us happy. He's gone, but we're still happy because we're home and because First Division is still FIRST.


"Holiday Routine
Future Chiefs???
"So What?
"You have the next watch"
| | |
| --- | --- |
| | --- |
| | Do you have questions or suggestions? Please contact us at webmaster@dd950.com |
| | Meet us in the Chat Room every Saturday 7:00pm Central Time |
| | Stay tuned for information about the DD-950 2006 Reunion! |
| | This page last updated on: August 11, 2003 |