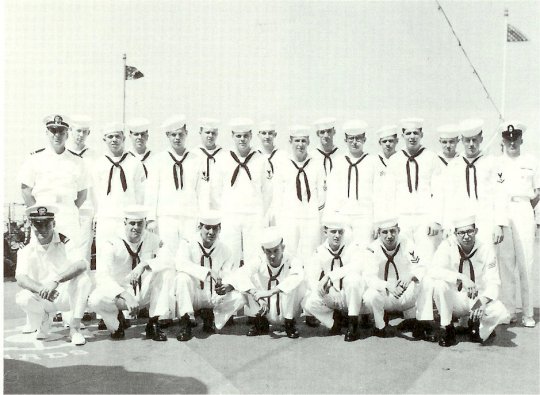 Standing (L to R): Mr. Hannah, Matlack, Johnson, Hogue, Blatzeim, Delanoy, Hodges, Wright, Neiman, Henderson, Clement, Farrell, Schmelz, Harris, McKensie, Paston
Kneeling Vaught, Ledbetter, Garcia, Arend, Wilson, Brys, Paquin.
---

At the time of this writing this cruise is almost history. To date this ship has not lost a commitment due to an Engineering failure. This statement in itself sums up the cruise for us. However, what that has meant in liberty hours spent: Cleaning fire sides, Working on reducers, leaks, Cleaning bilges, Doing shipyard type overhauls on Generators successfully (we hope) and overhauling pumps that somehow continue to pump. The people in the holes know well this part has been Hell. Yet we have always answered the Bell.
We existed for Hong Kong and it was worth it, as we sort of closed up shop and lived for a while.
The saving grace is that we all know and must finally all agree that without Steam and Turning Screws there just simply would have been no cruise. Of the people who sail our ships there are all types, and we are proud to be know as the type that is called a SNIPE.



| | |
| --- | --- |
| | --- |
| | Do you have questions or suggestions? Please contact us at webmaster@dd950.com |
| | Meet us in the Chat Room every Saturday 7:00pm Central Time |
| | Stay tuned for information about the DD-950 2006 Reunion! |
| | This page last updated on: August 11, 2003 |