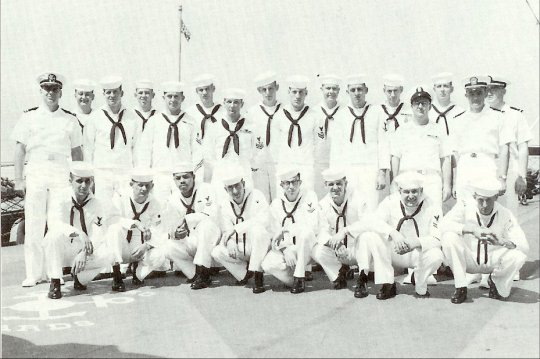 Standing (L to R): Mr. Hannah, Anderson, Parkin, Higgins, Blume, Kelley, Care, Hoffman, Workman, Peterson, Bates, Lafferty, Eck, Treadwell, Mr. Levings, Br Berry.
Kneeling Praze, Watson, Ervin, Byrd, Armstrong, Park, Creekmore, Payne.
Behind a pair of goggles, beneath a cloud of welding smoke, or peering into fuse boxes one can find the men of the "R" Division. Who can forget the ever present "request" to get the air conditioning fixed, the top priority item on everyones inspection check off list, "bunk lights", or the many anxious hours the Captain spent hoping the gig would start.

16 May saw "R" division bulging with pride when nine men sewed on "Crows" for the first time and three others advanced in rate. On top of that Treadwell retained his crown as "King of National City".

Liberty Call! Be it in the heat of Subic, the snow of Yoko, or the excitement of Hong Kong. Never a liberty passed without a good representation from the division. Couple the many shipboard experiences with the pleasures - and there were many - of liberty, and one can hardly help but have a memorable cruise.
| | | |
| --- | --- | --- |
| | | |
| | "I live on a Tin Can." | Which one wears the Fruit of the loom? |
| | |
| --- | --- |
| | --- |
| | Do you have questions or suggestions? Please contact us at webmaster@dd950.com |
| | Meet us in the Chat Room every Saturday 7:00pm Central Time |
| | Stay tuned for information about the DD-950 2006 Reunion! |
| | This page last updated on: August 11, 2003 |