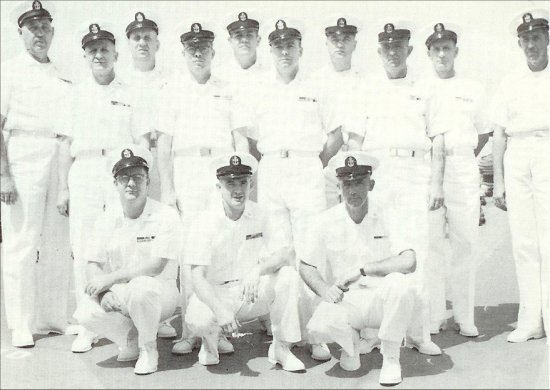 Standing: Buster, Banech, Dailey, Armstrong, Spilker, Stanton, Faulhaber, Burns, Fauber, Kemp.
Kneeling Eck, Bishop, Canterbury
---

Ready Eddy CPO's as seen by:


The Captain:
Being transported from port to port in a timely manner so as to guarantee a payday between each of the liberty ports


The X.O.:
Always up to a big deal.


The Senior Watch Officer:
Unauthorized standbys.


Heads of Departments:
Life Savers.


Division Officers:
Trouble.


CPO Club:
$ $ $.


His Wife:
Seldom.


Himself:
Dedicated, intelligent, either number one or two in the fleet, and not lower than number four.


His Men:
Slave driver, never satisfied with the work done.


---
Do you have questions or suggestions? Please contact us at webmaster@dd950.com
Meet us in the Chat Room every Saturday 7:00pm Central Time
Stay tuned for information about the DD-950 2006 Reunion!
This page last updated on: August 11, 2003