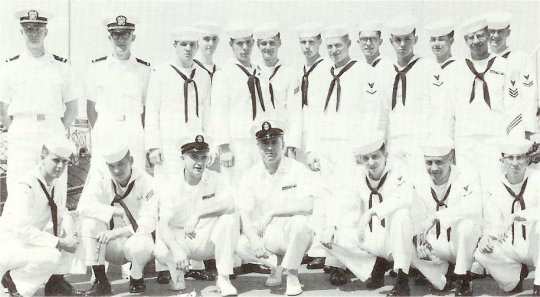 Standing (L to R): Mr. Swenson, Mr. Stubsten, Smith, Golden, Geels, Laurant, Carpenter, Dodge, Shubert, Sharp, Stutton, Hardy, Ludwig.
Kneeling Woodward, Dudley, Bishop, Stantion, Marvin, Sonneir, Click.
---
OI Division, finding itself confronted by hundreds of junks, perpetual casualties in the 40, and a multitude of troubles named variously Ted, Red, and Angry, summoned to the fore its inner reserves of resourcefulness and strength --- and hit the beach. There Smith was able to demonstrate an amazingly efficient method of steam locomotion. Jendrezejak could spread his affable sociablility among even more jarheads. Ebert found himself immersed in a study of the recuperative powers of the human body. And Dodge could try to taste the bait and avoid the barb.
Once in a while some of the Division were noted aboard ship. Richardson intently sought marine life and tallied one flying fish and the wake of a whale. Arnold ran for Superman of the week. Dudley joined the division and began pushing pills as well as plungers. And Sharp moved his mattress to the forward mast.


ET at work (a rare picture)
"SCOPE DOPE"
OI on station
"Don't take my picture or I'll..."
---
Do you have questions or suggestions? Please contact us at webmaster@dd950.com
Meet us in the Chat Room every Saturday 7:00pm Central Time
Stay tuned for information about the DD-950 2006 Reunion!
This page last updated on: August 11, 2003