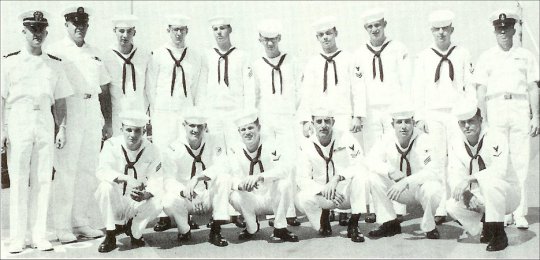 Standing (L to R): Mr. Byron, Splker, Wass, Schwaner, Oberzalek, Cowser, Shiels, Manglitz, Grisco, Armstrong.
Kneeling Reeves, Springer, Kaye, Deep, Spain, Overby.
---
During our cruise we have visited many countries and participated in a variety of different assignments at sea.
We have chased Submarines and tracked Aircraft, scrubbed the decks and painted space, rolled in beach sand on days off in port and rolled in our bunks during rough nights at sea.
We worked hard, played hard, and despite trying times, never lost the art of seeing the humor in the most humorless situations.


"Boy's Night Out"
Ping!... Ping!... Ping!...
Pursuing higher learning.
| | |
| --- | --- |
| | --- |
| | Do you have questions or suggestions? Please contact us at webmaster@dd950.com |
| | Meet us in the Chat Room every Saturday 7:00pm Central Time |
| | Stay tuned for information about the DD-950 2006 Reunion! |
| | This page last updated on: August 11, 2003 |