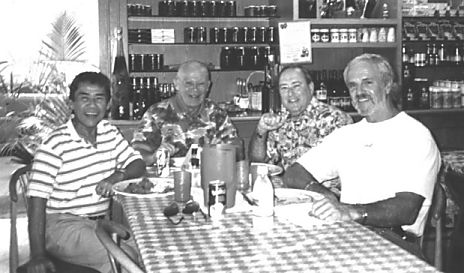 Len Hammond wrote in Jan. of 2000:

I am sending a picture of 4 members of the CPO mess 1978 -79. From left to right; MSC Sam Olavere, OSCM Jim Pitton, SKC Len Hammond, MMC P.C. Smith. Sam was the artist who created much of the Ready Eddie artwork including the "Ol' But Still Steaming" which was used on the cover of the WestPac '81 cruisebook and as the UnRep flag. Sam now works in Customer Service at the Supply Center - Pearl Harbor. Jim was the CMC and later the scheduler at MidPac. He is now the Executive Director of the Honolulu chapter of the Navy League. Len was later commissioned as a Supply Warrant and retired in 1994 as a LT, SC. He is now teaching Logistics Mgt. for MSC at the Navy Supply Corps School - Athens, GA. PC retired as an MMCS from MidPac and now is in business for himself in Kaneohe, HI. This picture was taken at Christmas in Honolulu during a small impromptu get together of Ready Eddie sailors. Missing from the photo is SK2 "Primo" Pisimaka. Primo retired as an SKC and is now working at the Public Works Center - Pearl Harbor.

Len
Please send in a copy of your photos!
Do you have comments or suggestions about the Website? Please contact Webmaster@DD950.com